Gastronomy
1140 kilometres through Italy
Text and Photography — Camille Oostwegel
It all started ten years ago in Copenhagen. My friends Dion, Corneel and I, all working in the hospitality industry, visited the (then) newly appointed 'best restaurant in the world' Noma. That moment started a new tradition, leading us to France, Colombia, Spain, Peru, Japan and beyond. Mixing haute cuisine and comfort food, our annual inspirational gastronomic trips offer interesting destinations along roads less travelled.
We can be spotted having lunch from tables dressed in white tablecloths at noon, visiting a local market in the afternoon and buying dinner from a hole-in-the-wall falafel place. Sharing memories from past adventures and bouncing ideas off each other, our rental car took us 1140 kilometres off the beaten track, through Italy this time. We started near Naples and ended in Florence, exploring as much as we could in just six days. Find the links to the restaurants and experiences here.

Cesa
Del Prete
Our first stop was a small village called Cesa, situated about 20 minutes north of Naples Airport. In Cesa we visited a family of pasta makers. Three brothers run 'Del Prete', a small factory making the most delicious pasta. The filled pasta such as ravioli and tortellini were terrific in both texture and flavour. Fabio, one of the brothers and the companies' business development manager, certainly knows how to cook!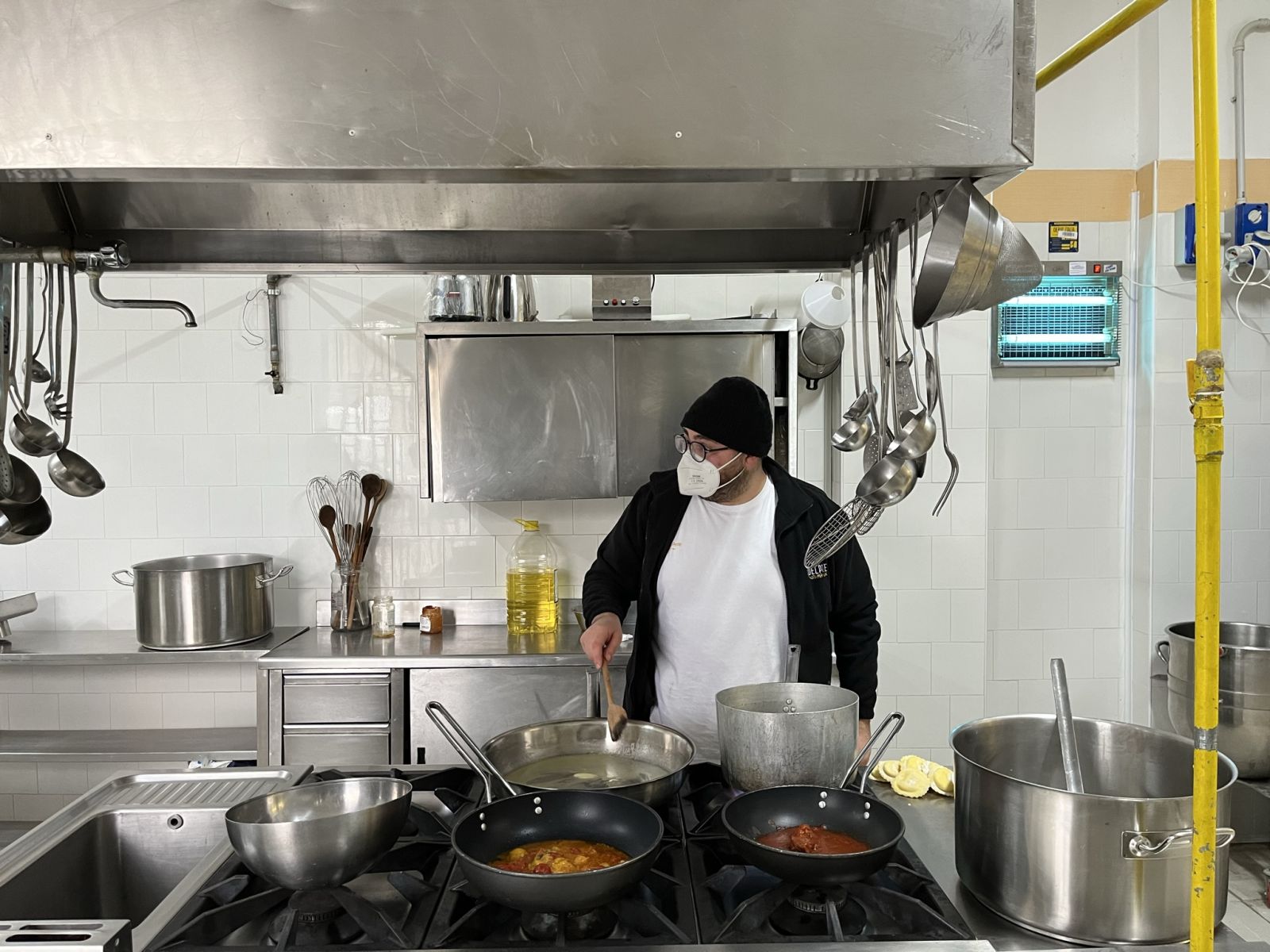 Caiazzo
Pepe in Grani
After spending some time at the factory we continued driving north towards Caiazzo, a small, picturesque town of about 5,000 inhabitants. To culinary enthusiasts this might ring a bell. Caiazzo is the home of 'Pepe in Grani' where, according to some, Francesco Pepe prepares the best pizza in the world. This is a bold statement, but having tried pizza in many different places across the globe I believe Franceso Pepe to be the absolute king of pizza.
The tasting menu might scare those who are counting carbs, but Pepe's dough is surprisingly light and fluffy with an amazing crunch. The toppings are sometimes surprising (tuna with celery) but the results surpass expectations. As for special tips on accommodation - Pepe in Grani does have a few guest rooms but guesthouses in the rest of the town are relatively basic. Our one night came with cold shower, but Pepe's pizza and the amazing views were worth it.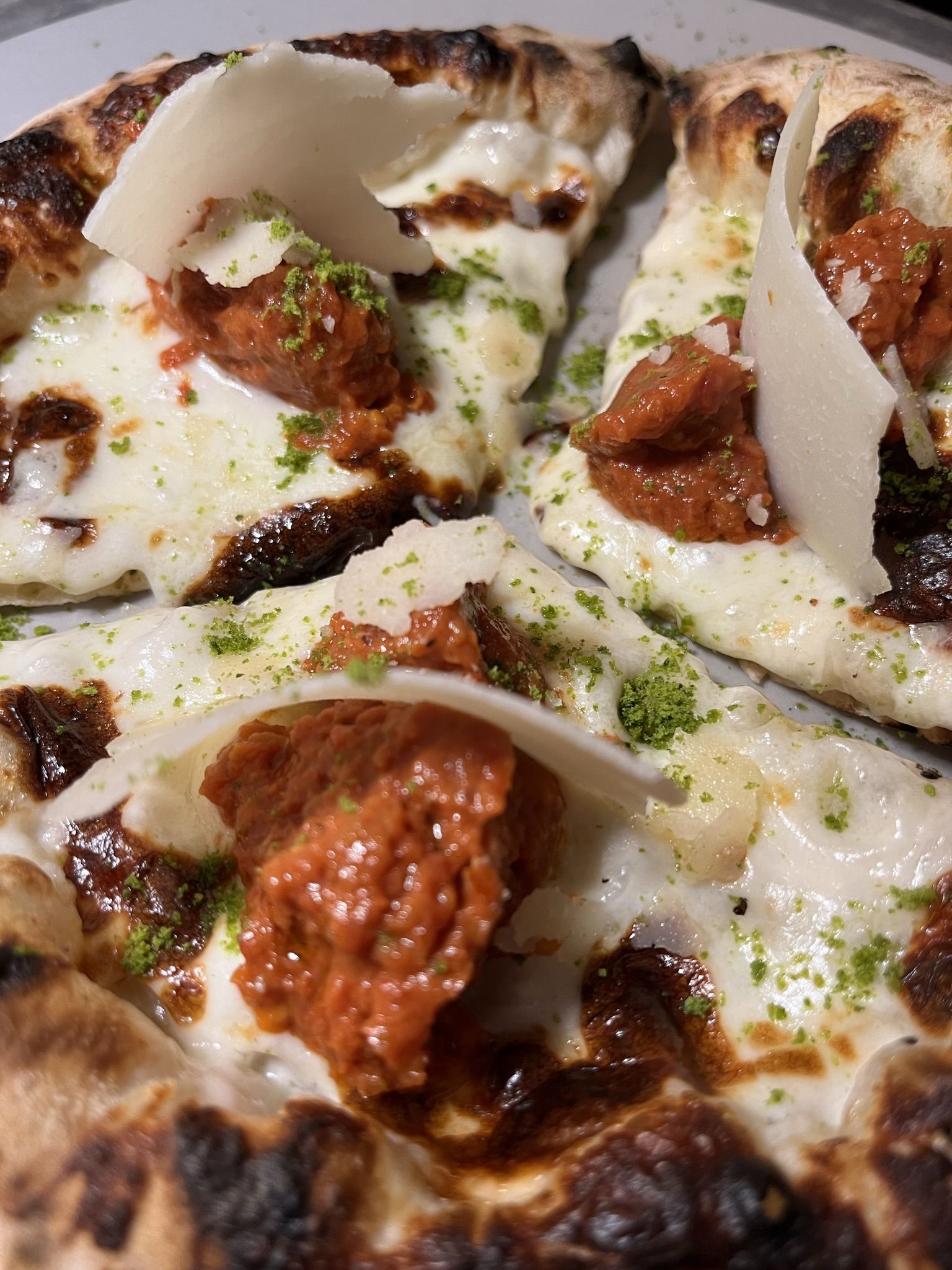 Caiazzo
Caseificio Il Casolare
Our journey continued towards 'Caseificio Il Casolare', a mozzarella factory located about 10 minutes north from Caiazzo. Learning and understanding the process of making mozzarella and seeing the craftsmanship first hand was a great experience. Tasting mozzarella, pretty much straight from the cow's fresh milk, is simply the best. It certainly does not get any more pure than that.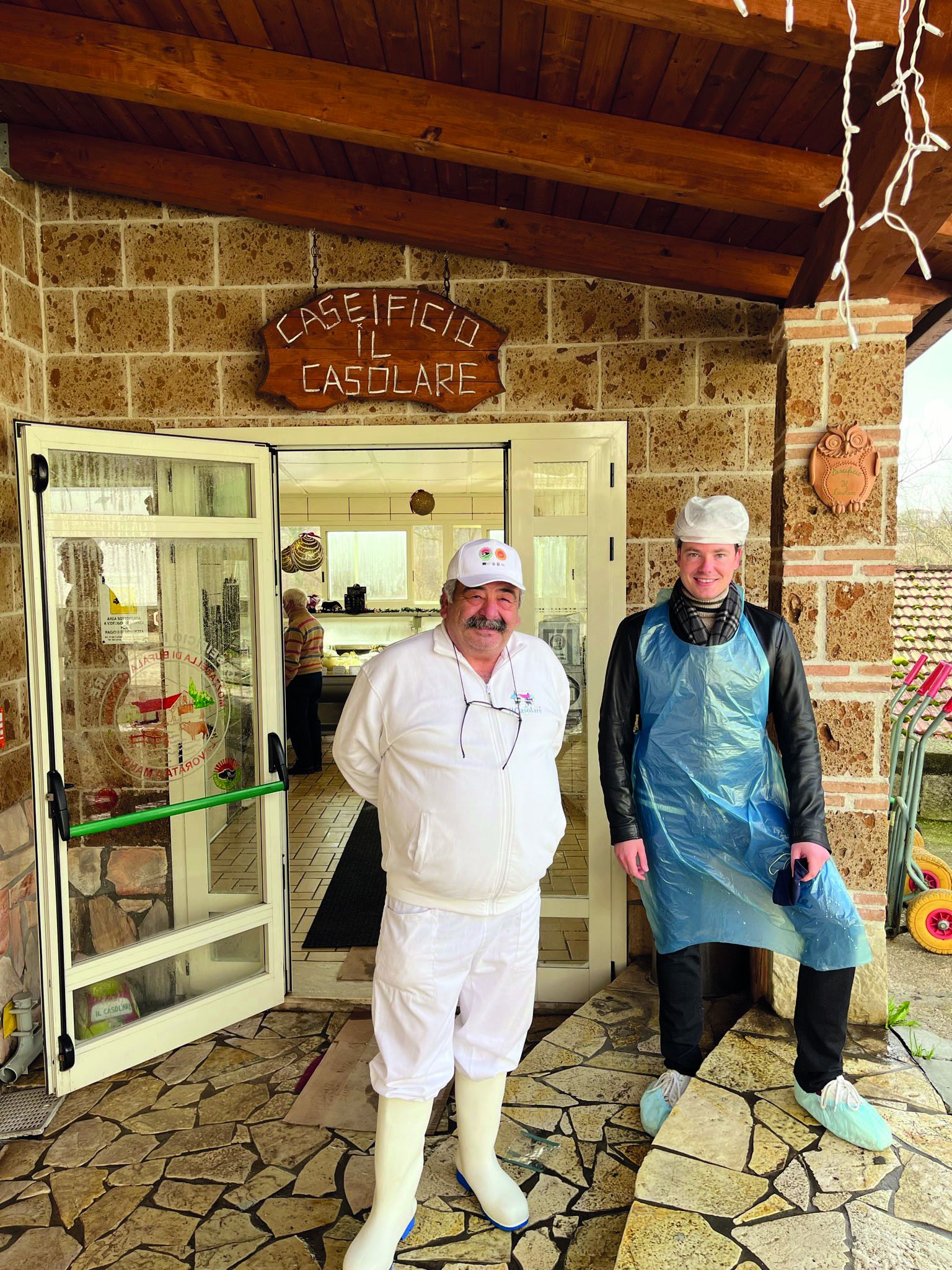 Castel di Sangro
Restaurant Reale
We hopped back into our rental car for about 1.5 hours and headed towards Castel di Sangro. We arrived for a fine dining experience at 'Restaurant Reale', awarded three Michelin stars and ranked 29th on the World's 50 Best Restaurants list. It's a stunning location for both accommodation and gastronomy. Located in Parco Nazionale d'Abruzzo, this 16th-century former monastery has been beautifully restored in an understated way. The décor allows for no distraction, so you can focus entirely on what happens on your plate and in your glass.
And to be quite frank, you really do need to focus. Chef Niko Romito and his sister Christiane, who run the service, deserve your undivided attention. We were amazed by the quality of the broths, that had a great combination of depth in flavour, freshness and umami all at the same time. Add in some tortellini with almond filling and it is a totally wild ride for your tastebuds. Many great dishes were part of the tasting menu, but the trout and bay leaves really stood out in terms of the cuisson and finesse of the plating. Furthermore, the Romito family is one with a strong bakers tradition. Their love for bread and their skill in bread making is sensed throughout the meal.
The team in the dining room is highly skilled and attentive. On our trips we always bring our own Laguiole knives to every dinner, which is a bit of fun and is a token of our friendship and tradition. The waiter noticed this immediately and asked for the backstory behind the knives. With this knowledge he astutely refrained from adding the restaurant's knives to the table.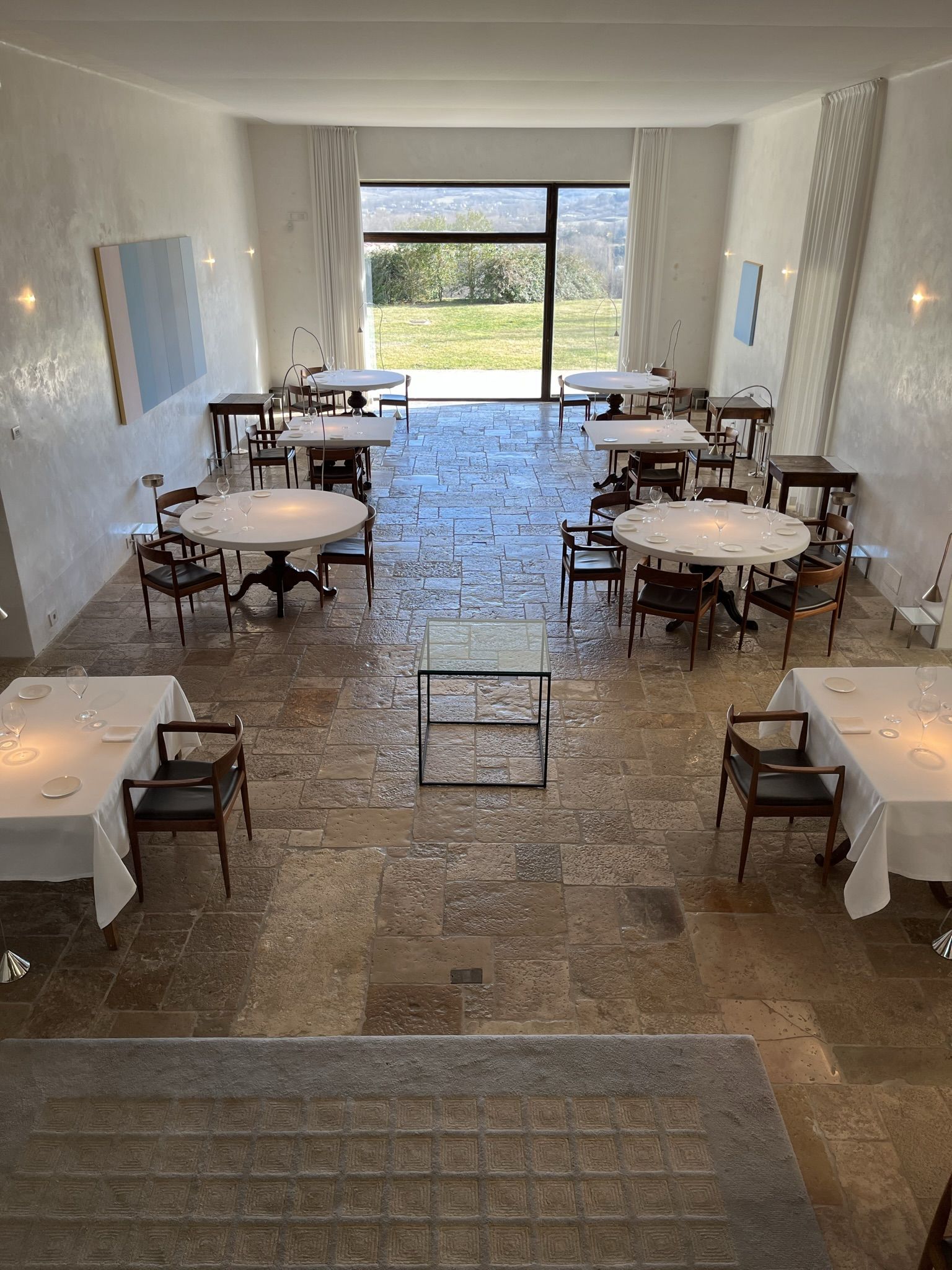 Rome
Westin Excelsior
Having woken in the monastery and enjoyed a 'bread heavy' breakfast we drove towards Rome. Our accommodation of choice was the Westin Excelsior, a 'grand dame' of a hotel that is a stunning historic palace. It was nice for me personally to stay here as I worked on the Westin brand from the Starwood (now Marriott) headquarters in New York. Coincidentally, the current General Manager, Marc Lannoy, was my General Manager when I worked in the Westin Palace, Madrid.
The hotel has an amazingly skilled bar crew and what you might not know is that the drink 'Il Cardinale' was invented in the Orvm bar. Ask bartender Luca to make one for you and I promise you will not regret it. To explore Rome we rented Vespa scooters, which proved to be a very efficient way to see the city with so many highlights. In addition, it allowed us to experience Rome's great variety of food and drink in different parts of town.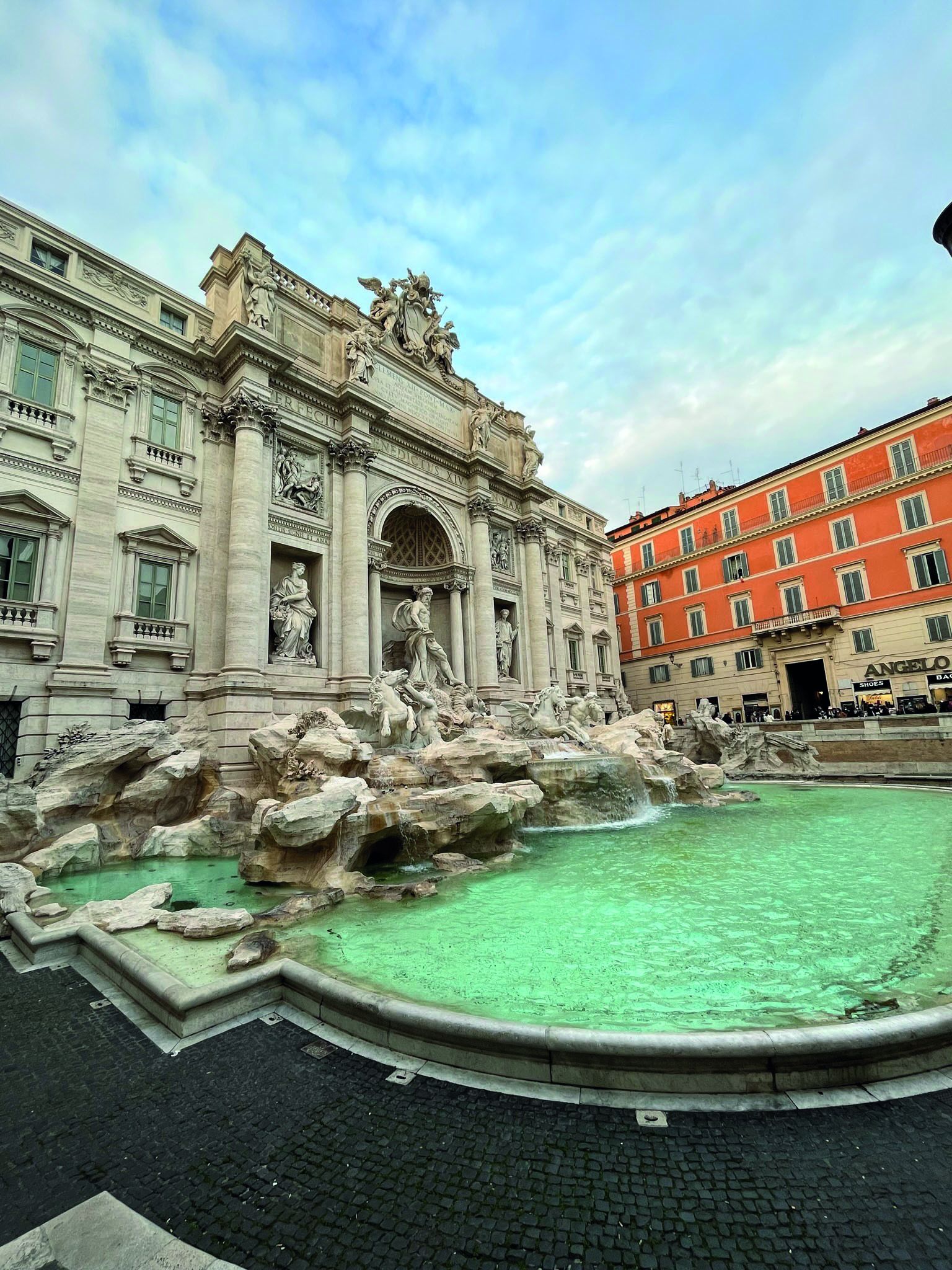 Chianti


Panzano

Our next destination may ring a bell as well; 'Panzano' in Chianti. Our main reason for travelling to this picturesque town was to have dinner with butcher, Dario Checchini. You might have seen him in an episode of Netflix's Chefs Table in season six. His butcher shop and restaurant are an exciting concept, if you are a meat lover. For €50 you get unlimited meats, vegetables and Chianti wine as you sit at one long table with other guests. If you want you can strike up a conversation with strangers and leave as friends.


San Miniato
Truffle hunting
Following our time in Chianti our next stop was in San Miniato to go hunting for Italy's black and white gold: truffles. It was absolutely the most magical experience and highlight of our trip. The process of going into the forest in the pouring rain with two friends, a truffle hunter called, Massimo, and his dog, Geo, hoping to find treasure, was a great adventure.
Walking with Massimo was very educational: did you know that you can very quickly learn about the quality of a truffle by asking or reading where it was found? If the description says the truffle is from Europe, Italy or San Miniato, guess which one is better? Indeed, the one from San Miniato. The more specific the territory, the better the truffle.
We had a pretty good harvest thanks to the hard work of Geo. We took it to Massimo's home where his father had already set the table, along with wine. He prepared a few wonderful dishes that looked so simple but were incredibly tasty. Experiencing the process from soil to plate within a couple hours, combined with the knowledge, enthusiasm and hospitality of Massimo and his family makes this the highlight of the trip!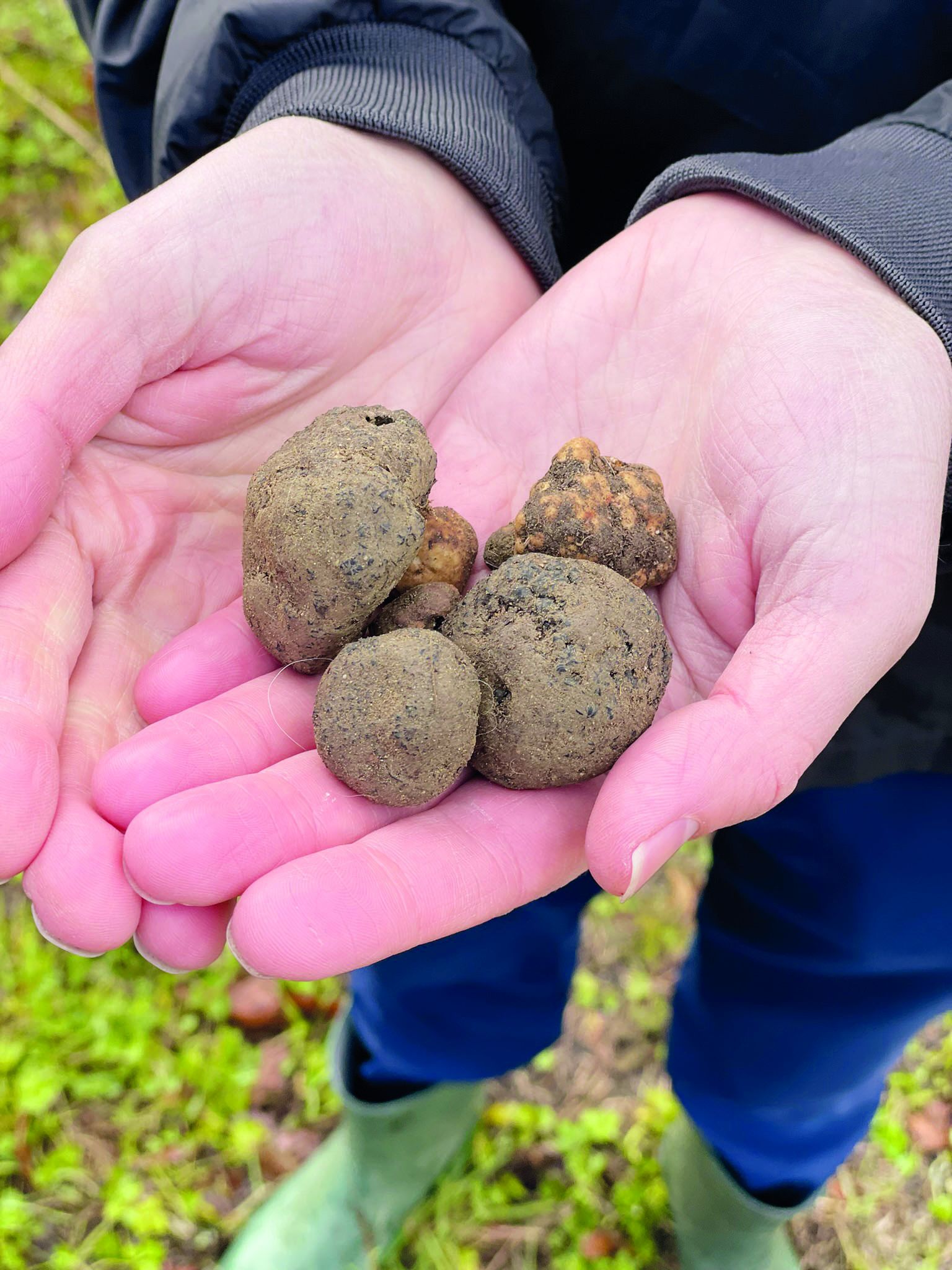 Florence
Baglioni Relais Santa Croce
Our last stop was Florence. We only spent one night in this gorgeous city and for me it is definitely a place to return to. Our home for the night was with our Relais & Châteaux 'family members' at Baglioni Relais Santa Croce. The location of the hotel allows you to walk to all the highlights in town, making it a very nice and convenient hotel for a stay.
Florence
Osteria Gucci & Westin Excelsior rooftop bar
We booked our dinner at 'Osteria Gucci', Massimo Bottura's restaurant in Gucci Garden. Before dinner we enjoyed an aperitif at the rooftop bar of the Westin Excelsior. From the bar you have a 360 degree view of Florence, so it is definitely worth going to. Dinner at Osteria Gucci is all you would expect - a colourful and very well designed restaurant with top quality gastronomy.
The menu includes a variety of dishes from steamed bun with pork belly, to tortellini with Parmigiano Reggiano cream. We actually requested a second serving of the tortellini with black truffle on top. Since we learned how to assess a truffle's quality we asked where the truffle was from. Guess what? SAN MINIATO! We could not have wished for a better ending to our Italian adventure.